Well this is a bit of sad tale of who I look up-to in the world – he is not an actor, painter or photographer as some might suggest (even though I do like Paul Smith to an obsessive level.)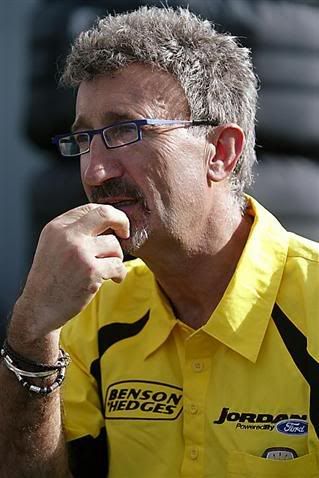 Who I look upto is a man named Eddie Jordan (pictured above); ok so we have just established unless you are in-tune with the world you have no idea who he is and what he has done to make him great. Well for a start he managed to start motorsport teams which brought a sense of excitement and fun to the deal and the most part collected the greatest (and most egotistical) drivers into the sport. From their days in F3 to F1 most greats passed his way, from Damon Hill to Martin Brundle and then onto Michael Schumacher and Ayrton Senna all have had great success and are extremely respected in the sport.
So you are still thinking; ok, he brought some guys to a sport big deal he probably worked for Ferrari. That is so far from the truth he managed to weal and deal all the way from Ireland up-to the top. To manage to get an F1 team that with designer Gary Anderson managed to punch far above its weight and had some spectacular results especially with Damon Hill. Jordan Grand Prix Limited in its hey day was a team held together by Eddie with every ounce of smoosing the biggest of sponsors to get the car on a grid – in fact when he was in Ireland he would of sold them a road car along with the sponsorship just for good measure.
So what makes him great, just his brain and his attitude. He knows how to market products effectively including F1 cars and I am really sad I do not see him as much anymore. I would love to see him back in the sport (maybe next year Eddie) it was great to hear him speak about all the issues of the day and how open he was. He brought rock and roll to the clinic style operations of F1 and for that reason he has to be one of the greats in the all time of the sport.
So, what am I proposing. Well I think a fan club is in order – leave a comment if you would like one. It would be free, just to discuss the legend that is Eddie Jordan – my idol.