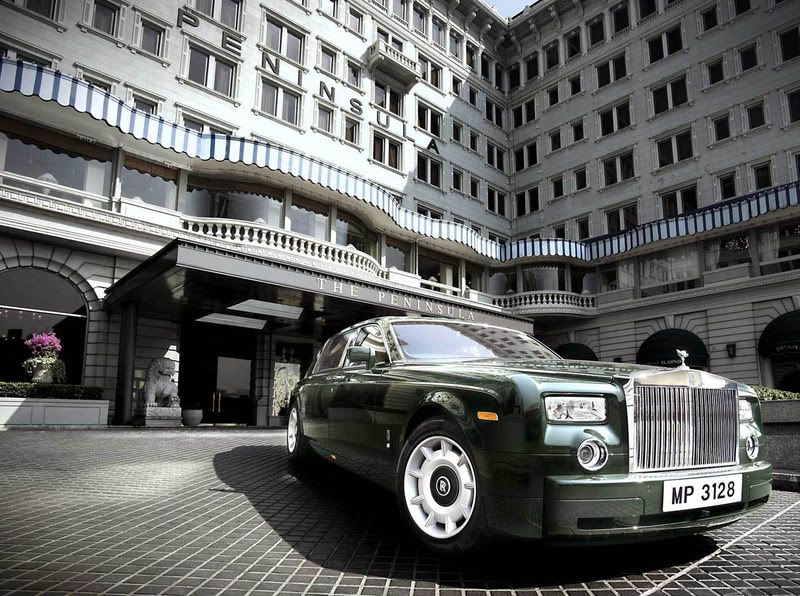 50 Cent – aka rapper Curtis Jackson, silver with cream interior. He is thinking about making it a convertible
Fat Joe aka Joseph Cartagena, sky blue. He bought it after the success of "Lean Back".
Ben Affleck – silver. He bought it for then fiancee Jennifer Lopez. When the relationship broke up, she returned it — and he was photographed taking it to McDonalds
Christina Aguilera – white. Was used at her wedding in Napa Valley
 
David Beckham – silver. Bought for him as a birthday present by wife Victoria Beckham.
Johnnie Cochran – black on black, with the plate "JC JR"
Simon Cowell – ordered a Maybach. He then took a ribbing from Jeremy Clarkson on Top Gear. He was in Hollywood, and his Bentley needed a service — they gave him a Phantom as courtesy car, and he loved it. He telephoned Rolls-Royce and found the Beverly Hills dealer had three in stock, including one with his preferred 'piano black' paint and triple black interior — black leather, black carpets and black lacquered wood dashboard. An hour later his Maybach order was cancelled, and he had ordered a second similar Phantom for London. He has a 100EX convertible on order for American delivery. When Cowell was Punk'd Ashton Kutcher pretended to have the car stolen.
Bishop E. Bernard Jordan – given to the prominent New York Bishop by former Run DMC rapper Reverend Run in March 2004, for saving his life
Jay Kay – black on black with piano black
Jay Z – white
John Kerry – black for the former Democratic presidential candidate: or more correctly, owned by his wife Teresa Heinz Kerry. Driving it in Detroit during his campaign brought derision from local auto workers
Brittany Murphy – after seeing one in a Snoop Dogg video
Shaquille O'Neal – silver
Nelly – Despite a trip to the customizer for new rims, Nelly felt his Rolls-Royce Phantom still lacked a certain discreet charm. So he had the interior totally re-worked in mink fur
Yohan Poonawalla – the Mumbai industrialist bought the first Rolls Royce in India, 2 years after test driving it in London. It was the first Rolls-Royce sold through a local dealer in 50 years — and included 103% local luxury tax
Gene Simmons – Lead Singer from the Legendary Rock Group KISS
Russell Simmons
Rev. Al Sharpton – Owns one after celebrating his 50th birthday in 2004.
Snoop Dogg – white. Used in one of his music videos
Sir Alan Sugar – black with cream interior. The known collector of specific Rolls Royce and Bentley cars has one as his chauffeured transport, which featured in the second series of The Apprentice
Donald Trump – basketball star Shaquille O'Neal purchased a white Phantom as a wedding gift for Donald Trump and his wife
Josh Towbin – Towbin Dodge Owner, Rapper and Star of A&E's King of Cars and also owns one and was seen in the opening credits of King of Cars
Denzel Washington – bought it as a present for his 50th birthday
Stevie Wonder – in black, purchased by Oprah Winfrey as a "thank you" for singing her "Happy Birthday" on her 50th birthday
Stack Bundles Up and Coming Rapper
Sultan of Brunei – and his brother Jefri each purchased six bullet-proof Phantoms
Prince Alwaleed Bin Talal Alsaud – the Saudi is the fourth richest man in the world
Prince Abdullah – has loaned Michael Jackson a driver and one of his three Rolls Royce Phantoms, while the singer resides in Bahrain
Please Note: This information was taken from Wikipedia, freely available to publish on other website.