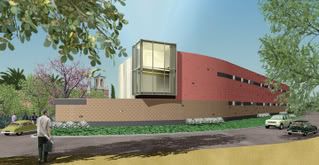 It seems to me that most of my fellow students are constantly doing subjects which give them a reduced workload and less responsibility – an easy run through university. It became apparent to me that I was probably one of the only sixth formers who were doing a subject which needs massive commitments and long hours in order to complete it.
I am of course talking about Architecture. That funny subject that takes over 7 years to finally finish and is protected by the government in the same likes as being a doctor for example. That means if you were to go outside and show you're an architect and you weren't on the register – the police could prosecute you.
My first port of call to get on an architecture course is to of course visit the schools in question and look at what they are about. It is important at this point to ignore anything league tables show because in a since they are just mathematical bollocks.
The first I visited was Birmingham City University; you might be thinking now why an A at A level achiever wants to go to a school with such stigma attached. Well the simple answer is I really do not care about its name; I wanted the quality of its teaching. I was pleasantly surprised, the work was top notch, the facilities were excellent and I had an overall feeling of eccentric warmth in the building. This school was going to be on my list, not just because of that, but because it was based on a complete and famous art campus. This campus has so much creativity going on it might as well explode with ideas of the future flowing through it.
On my magical road trip, we went north, left my home in the midlands and went to the glorious once industrial centre of the world Sheffield. The city was beautiful, the trams were delightful; they were clean and fast moving (well done to Sheffield for re-introducing probably the best form of public transport ever). However, when we went to the area were architecture was my overall optimistic opinion dropped. The supposed 2nd best university for architecture (as the AJ points out) was based in a monolithic 20 storey tower, 60's gray façade. It did not look good at all for the future of this school in my opinion. The talk for the university was for some strange reason in an old decrepit chemistry building, and we thought well can we look at the actually place of study. So we went to the tower and were greeted with the un-usual system of lifts that did not work and that I have a fear of, walking up the escape stair shafts up 15 storeys in the sweltering head (my mom almost died from exhaustion.) But it would be worth it as it was a top 5 university, sadly it wasn't, the work was for all intensive purposes rubbish. It lacked any imagination and was gray and drab much like the university. The talk was terrible when we got in it, the room was stuffy and the tutor was boring and un-charismatic. I left disappointed, the city was fantastic but the university was less than average. I still do not know how a Russell group university would be so lacking in any attractive substance. Saying that the university is being re-developed so in 5 years time it may be a different story but atm it is not right for me in a sense.
My last journey south was over an hour from my home in the fine sleepy city of Oxford; leafy and green with a general lovely atmosphere that greeted me. Our first challenge was to get on a special park and ride at Uni-Part; this was more of a challenge than first thought as the university was not allowed to put signs up as to where it is. When asking the locals we managed to find the gigantic building that was nestled behind a gigantic gas tower next to the BMW Mini factory.  If this was an improvement that would be it, more signs needed to point the way. We got on the free park and ride buses that took us to the campus that I wanted. Although the building was 60's it had be modernised and was clean and tidy. I loved the overall aesthetic it was a comfortable place to study that I would see myself working it day to day with ease. The same with the architecture department it was on par with Birmingham and I would be happy to study there. The students were friendly to which is always nice to see that they are enjoying it. Upon leaving I knew it was right to go on my UCAS form for the right reasons.
What did this all show that you should always look at the university you want to go to, because if like Sheffield it would only let you down. I could of barrel rolled into that university and I would have left almost instantaneously. Now all I need to do is complete the portfolio and get a conditional it is going to be a hard 6 months but I am sure it will be worth it.