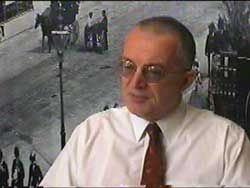 Oliver Hill is not a name that is in the super league as it were of architects, the vast majority of the population probably do not know who he is or what he has done. But when you ask about Norman Foster or Frank Gehry people will quite happily talk about them until the cows come home (yes I have to put a cliche in here, if you don't like it go cry in your classical English dictionary.)
Here is some background about him from Garden Visit:
English architect, landscape architect and garden designer. A family friend of Edwin Lutyens, Oliver Hill was apprenticed to a builder and then to an architect. After gaining a reputation as a country house architect he began to design gardens and became a Fellow of the Institute of Landscape Architects. Oliver Hill's early garden designs were in the Arts and Crafts style but he turned towards modernism in the 1930s, favouring curved lines.
So why do I like him, well he designs in one of my favourite styles Art Deco with all the bells and whistles. His most accomplished pieces is the Midland Hotel in Morecambe (England;) with streamlined curves designed for the LMS railways in the 1930's. This vast piece is the iconic image of Morecambe and has been recently restored to its former glory by Urban Splash and architects Union North.
The second reason is that although he appears to be a normal Brit from the outside, like many geniuses there was an altergether more excentric side to the architect.  He enjoyed nothing more than "slipping away" at the weekend in his blue Rolls-Royce coupe with pink trim to Valewood Farm, his bric-a-brac-crammed farmhouse near Haslemere, with its musical lavatory-paper dispenser, peacocks and parrots. There he would don "any absurd suit of clothing to suit his mood", only to take it off to surprise his guests into joining nudist frolics on the hilltops in high summer.
This was my homage to the great man, if anyone could tell me any more info about him I would be greatful.