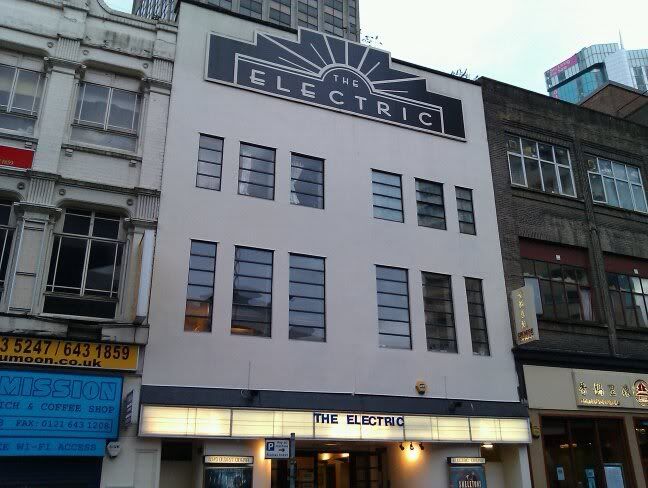 I made my first (and certainly not my last) foray into the independant none multiplex cinema experience yesterday and loved it. The Electric Cinema in Birmingham is the oldest working cinema in England with is art deco interior and exterior and classic ticket stubbs (that put a massive smile on my face.) It was an overall pleasant experience, being able to drink a proper cup of tea while watching a movie is a great experience, it makes it very homely and a nice atmosphere. They also sell a delectable selection of cakes and ice cream that I will delve into the next time I visit which I hope will not be too long away.
We saw Skeletions the Movie a beautiful British film about exposing the skeletons in the cupboard. To quote the film blurb "A pair of travelling salesmen wander in and out of people's lives, performing a Procedure whereby hidden secrets and lies are exposed. When they arrive at a remote family home and can't seem to get the job done, they discover that you can't always get away from your own skeletons."
Nick Whitfield deserves the awards the film has rightly received and I would wait in anticipation at his next project. This film has just the right amount of comedy with the dynamaic duo of Davis and Bennett and their relationship with themselves and the job and the drama. It even features the talents of Jason Issacs (hello the Jasson Issacs!) as The Colonel who is such a delightful and talented actor. I would try to hunt this film down ASAP sadly though due to the budget you will have to track down the film by clicking the link below or wait for it be released on DVD which it inevitably will. 
Screenings of Skeletons: http://www.skeletonsthemovie.com/screenings/
The Electric Birmingham: http://www.theelectric.co.uk/